SpeakEasy!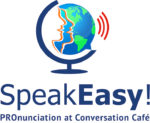 Business Name:
SpeakEasy!
Business Description:
SpeakEasy! is a BEST PRACTICES hybrid on-line evidence-based, live American English accent modification training program, customized for individuals who speak fluently with moderate to severe accents that create challenges and frustrations in the workplace.
We are native American English speaking, Master's degree educated Speech-Language Pathologists with Certification in the Compton P-ESL, committed to the success of your diversity and inclusion strategies to attract, retain and advance talent in career development, as a corporate partner or self-enrolled professional peer. Schedule a no cost, no obligation telephone consultation.
Send Message to listing owner
Please
log in
to be able to send messages to the listing owner.