Vybrence Communication & Consulting Innovations, LLC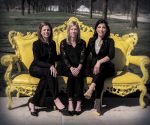 Business Description:
Having confident and clear communication skills is an essential aspect to one's everyday life. When we communicate our messages, ideas, thoughts, wants, and needs effectively, we feel seen and heard, creating stronger connections with other individuals, as communicative breakdowns and misunderstandings diminish.
The team at VYBRENCE COMMUNICATION & CONSULTING INNOVATIONS, LLC strive to help clients achieve effective, confident, clear, and efficient communication skills on their journey towards attaining their personal or professional goals. Using evidence-based practices, customized professional training programs, and 50+ years of combined experience in the field of speech-language pathology, we pride ourselves in providing excellent and high quality services to meet our clients' needs.
Vybrence provides flexible scheduling and virtual services globally in the areas of accent management training / accent modification and corporate speech training. The following specialty areas are tailored to meet our clients' needs individually or in a group setting:
Accent modification / American accent management services / English pronunciation training
Professional writing
Conferencing
Presentation and teleconferencing skills
Public speaking, coaching, and analysis
Interviewing and negotiating practice
Vocal projection
Non-verbal communication abilities
Cross-cultural communication
Etc.
Please do not hesitate to contact us with any questions! info@vybrence.com