Momentum Speech Therapy of Knoxville, LLC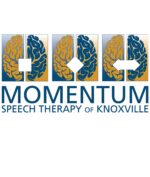 Business Name:
Momentum Speech Therapy of Knoxville, LLC
Business Description:
Hello, my name is Olga Carniello. I am a nationally certified and TN licensed Speech Language Pathologist dedicated to helping adults improve their communication skills in order to achieve their personal and professional goals. Clear and easily understood speech is essential in the workplace, in academic institutions, and in social interactions.
Are you tired of having to repeat yourself, or seeing people smile, pretending to understand you? Do you have a good command of English vocabulary and grammar, but find that your accent gets in the way? I can help you. I am certified in P-ESL approach (Pronouncing English as a Second Language) and help non-native speakers of American English to reduce the interfering sounds of their native languages so that their speech is more "listener friendly." Accent elimination is not the intention of the training that I offer.
I offer one-on-one and semi-private group training in person and online. You can start with a free screening of your English pronunciation followed by a brief discussion of the results. If you decide to move forward with my Accent Modification training, you will complete an in-depth assessment of your English pronunciation. Based on findings of the assessment, I will design an individualized program best suited for your needs.
Contact me to talk about what we can do together so that you will be able to speak in an efficient, clear and confident manner.