Prime Speech Solutions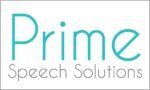 Business Description:
Effective communication skills are essential in the business world. We understand how communication skills impact your career opportunities, leadership skills and your self confidence. We offer customized Professional Communication Coaching Programs to help you improve your communication skills, so that you increase your opportunities in your work environment. We offer evidence-based proven strategies that help you to meet your target goal.