Speak Easy English Now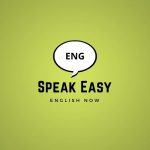 Business Description:
Speak Easy English Now exists to empower you to find your🎙voice and articulate your💡vision in a globally connected world.
Are you embarrassed to speak English in front of friends? Fearful of saying the wrong word? Have you grown tired of hearing people say, "Can you repeat that, please?" I can help. Get your English Assessment now 🎉 and let's put your plan in motion!